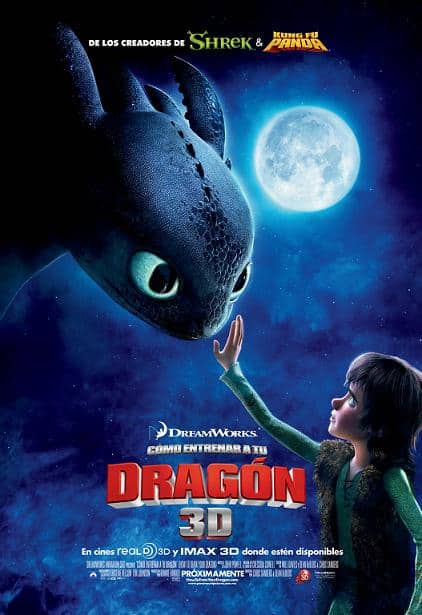 DreamWorks Animation presenta, "How to Train Your Dragon"(Cómo entrenar a tu Dragón) producida por Bonnie Arnold y dirigida por Chris Sanders, Dean DeBlois.
Cómo entrenar a tu Dragón está situada en el mítico mundo de vikingos fornidos y dragones salvajes, y basada en el libro de Cressida Cowell, la comedia de acción narra la historia de Hiccup, un vikingo adolescente que no comparte la antigua tradición de los heroicos cazadores de dragones de su tribu. El mundo de Hiccup se pone boca abajo cuando se encuentra a un dragón que lo reta a él y a sus compañeros vikingos a que vean el mundo desde una perspectiva totalmente distinta. Estreno, 26 de Marzo de 2010
Reparto en inglés. Jay Baruchel, Gerard Butler, America Ferrera, Craig Ferguson, Jonah Hill, Christopher Mintz-Plasse, Kristen Wiig, T.J. Miller. "How to Train Your Dragon" es un Estreno de Paramount Pictures.